Pharmacovigilance Training Covers ✓Daily class recordings ✓Pharmacovigilance Material ✓Real-time Project ✓Life Time Access to Course ✓Pharmacovigilance Project ✓Pharmacovigilance Job Support ✓Resume ✓Mock Interview
Pharmacovigilance Training
Pharmacovigilance course provided Ramya at Great Online training. Pharmacovigilance Training included real time project and ARGUS safety data base. Pharmacovigilance course tutorial for all students who are looking career in this area.
Live Online Training
Register today for a free demo
Brief details of this course training
| | |
| --- | --- |
| Name of the Course | Pharmacovigilance Advanced Course |
| Duration | 45 days / 1 hr per day |
| Training Days | Monday to Friday(EST) |
| Course Materials | Videos, Books |
Enroll for Pharmacovigilance Self-paced Course
GBP

:

£50

INR

:

₹5,000

CAD

:

$83

SGD

:

$81

EUR

:

€56
5027
Overview of Pharmacovigilance
Medicines are chemicals or compounds used to cure, decrease or prevent disease, ease symptoms or help in the diagnosis of illness. Consuming a medicine is equivalent to consume a risk, because no medicine is absolutely safe and all pose some health risks. These risks are mild in most cases but have the potential to cause disability or even death. The decision whether medicine can be taken or not depends on benefits and risks ratio. The product will be available in market if the benefits associated with medicine outweigh the risk. Hence drug safety monitoring and risk management are vital for manufacturers and regulatory authorities. Pharmacovigilance also known as drug safety, is the process that make sure the medicines are safe for their intended use, which starts at drug development phase and continues through out life cycle of the product.
Definition:
As per world health organization (WHO), Pharmacovigilance is the science and activities relating to the detection, assessment, understanding and prevention of adverse effects or any other drug-related problem.
Pharmacovigilance Interview Questions by Ramya
Aims of Pharmacovigilance:
To improve patient care about drugs and keep the patient safe from adverse effects of medicines, and all medicinal and paramedical interventions.
To contribute to the assessment of benefit, risk and effectiveness of medicines.
To promote understanding, education and training about this field and its effective communication to health professionals and public.
To encourage safe and rationale use of medicines.
Objective of Pharmacovigilance:
To detect the new adverse effects, drug interactions and contraindications.
Communication of information about adverse events so that they occur less frequently.
Reevaluation of risks and benefit ratio for effective use of medicines in patients to reduce side effects and more benefits.
Identification of mechanisms that cause adverse effects of drugs.
Pharmacovigilance process - Adverse event process flow
The pharmacovigilance process includes multiple phases of handling adverse event report.
Phase 1:
Collection of all adverse event reports including serious, non serious, new or already known event. Adverse event reports are collected through different sources which are;
Spontaneous or voluntary reports
Clinical trials and Post marketing study Reports
Literature reports
License partner reports
Regulatory authority reports
Legal reports
Phase 2:
includes assessing these adverse event reports as per pharmacovigilance process guidelines and submitting them to regulatory authorities. In this phase the drug safety team assess the information multiple steps:
Case validity assessment
Database entry
Event selection and coding with MedDRA
Product coding
Seriousness assessment
Causality assessment
Labelling assessment
Writing narratives
Medical input
Phase 3:
determine the specific adverse events associated with medicines and then compare with another drug having similar adverse effect. Multiple teams involved in this phase.
Periodic report compilation/aggregate reporting
Signal management
Risk-benefit assessment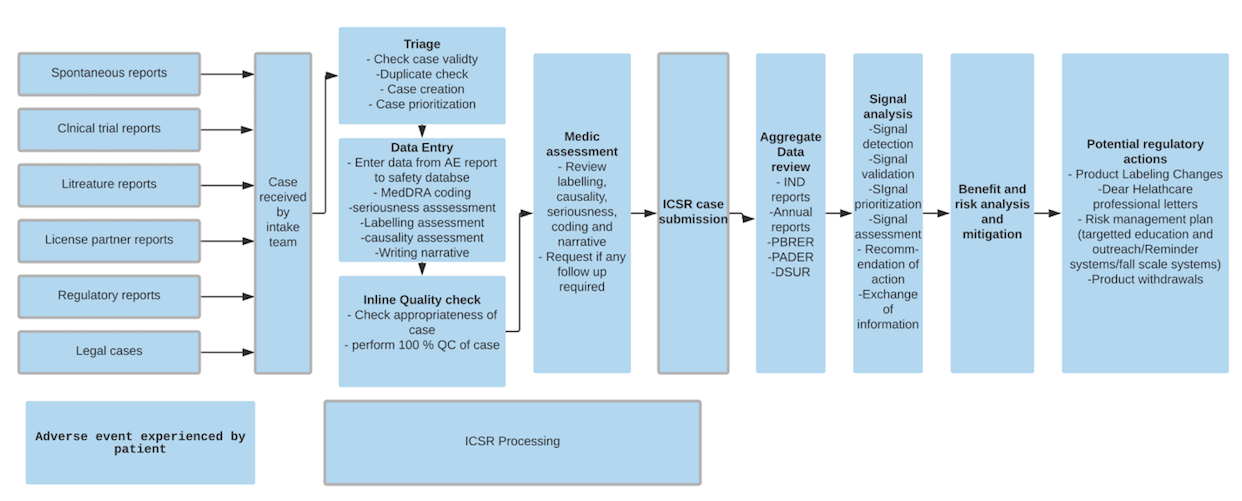 Phase 4:
Management and communication of these adverse effects.
Students Testimonials on pharmacovigilance Course
Basic fundamentals of ICSR
Individual Case Study Report (ICSR) is an adverse event report for an individual patient and is source of data in pharmacovigilance.
Sources of AE reporting:
Spontaneous or voluntary reports - As per ICH E2D, A spontaneous report is an unsolicited communication by healthcare professionals or consumers to a company, regulatory authority or other organization (e.g. WHO, Regional Centers, Poison Control Center) that describes one or more adverse drug reactions in a patient who was given one or more medicinal products and that does not derive from a study or any organized data collection scheme.
Clinical trials and Post marketing study Reports - The Adverse events reported while patient participating in clinical trials or post marketing trials.
Literature reports - Literature report is any adverse drug reactions reported in

Published abstracts or
Articles in medical/scientific journals
Unpublished manuscripts involving case reports
Important safety findings or clinical studies including posters, letters to the editors, and associated communication from scientific meetings.

License partner reports - A Pharma company get into a licensing agreement with third party to produce or market a drug formulation that the other company has developed. Each license partners does have pharmacovigilance agreement to meet safety requirements in marketing country. The cases received from other pharmaceutical company which has PVA agreement are handled as license partner cases.
Regulatory authority reports - If a consumer or healthcare professional directly report adverse events to regulatory authority (i.e, FDA, EMA etc..) not to marketing holder (pharmaceutical company), then those reports will be shared to marketing holders by regulatory authorities. This type of cases which were received by companies from regulatory authority are handled as regulatory authority cases.
Legal reports - If the reporter file a lawsuit against medicine manufacturer and the report received from the lawyer are handled as legal case.
ICSR Validity:
All the adverse event reports may not be valid. Only valid reports which meets below criteria are to be submitted to Regulatory authority.
Identifiable patient
Identifiable reporter
A suspect drug
An adverse event or adverse drug reaction
Types of ICSR reports:
Based on source of adverse events the ICSRs are categorized into solicited and non-solicited reports.
Solicited Reports are the ICSRs which were originated from a organized data collection system such as;
Interventional and non interventional clinical trials
Patient registries
Post marketing studies
Patient support programs
Marketing programs
Investigator initiated trials
Compassionate use programs
Non solicited reports are the ICSRs which originated from unorganized data collection system such as;
Literature cases
Legal reports
Regulatory authority reports
Spontaneous reports
Social medial reports
Steps involved in ICSR:
Once the report received from one of the sources mentioned above, the case undergoes multiple processing steps before submitting to regulatory authorities. The steps involved in ICSR case processing are:
Case validity assessment
Database entry
Event selection and coding with MedDRA
Product coding
Seriousness assessment
Causality assessment
Labelling assessment
Writing narratives
Medical input
Regulatory submission timelines:
Globally ICSR are reported under 3 categories :
Clinical Death/Life threatening cases and SUSAR (Suspected Unexpected Serious Adverse Reaction) cases are reported within 7 calendar days to the NCA (national competent authorities)/HA (health authorities).
Clinical trial other Serious cases and safety issues are reported in 15 days calendar days timeframe.
Serious post marketing cases are reported within 15 calendar days to the NCA (national competent authorities)/HA (health authorities)
Non-Serious cases are reported within 90 calendar days to the EU health authority (EMA). Not mandatory for non-EU countries.
The clock starts (day 0) on the date when any personnel of the MAH first receive a case report that fulfill the minimum criteria
Basics of Aggregate reporting
Aggregate reporting is the process that reviews the cumulative safety information from a wide range of sources, on a periodic basis and submits the findings to regulators worldwide.
Types of aggregate reports:
Pre-marketing report:

IND annual reports
Clinical study reports (CSR)
Development Safety Update Report (DSUR) (annual reports)

Post-marketing report:

Periodic Benefit Risk Evaluation Report (PBRER)/Periodic Safety Update Report (PSUR)
Periodic Adverse Drug Experience Report (PADER).
NDA and ANDA annual reports
Signal Management
The definition of a signal as provided by the Council for International Organizations of Medical Sciences (CIOMS) 8 Working Group: Information that arises from one or multiple sources (including observations and experiments), which suggests a new potentially causal association, or a new aspect of a known association, between an intervention and an event or set of related events, either adverse or beneficial, that is judged to be of sufficient likelihood to justify verificatory action. Signal Management: A set of activities performed to determine whether, based on an examination of individual case safety reports (ICSRs), aggregated data from active surveillance systems or studies, scientific literature information or other data sources, there are new risks associated with an active substance or a medicinal product or whether known risks have changed, as well as any related recommendations, decisions, communications and tracking. Activities include:
Signal detection
Signal validation
Signal prioritization
Signal assessment
Recommendation for action
Exchange of information
What type of jobs are there in Pharmacovigilance and which one I should consider?
There are multiple areas in pharmacovigilance, some need specialization and some need medical/clinical/pharmacology knowledge. Core pharmacovigilance team require medical/clinical/pharmacology knowledge. This team handles ICSR reports, aggregate reporting, signal management, preparing RMPs/REMS/SMPs. These jobs require qualification of healthcare professional (physicians, nurses, pharmacists, dentists, veterinarians, Ayurvedic physicians). At an entry level one can apply for drug safety associate role who handles ICSR reports. There are multiple roles in ICSR such as case intake/triage team, case processing, quality review and medical review. Medical review team requires physicians but other teams need healthcare professionals. To apply for this role one must have knowledge in pharmacovigilance processes and guidelines, must have skill set to read incoming hospital records, patient records, medical literature, case report forms, labelling documents etc. Major activities that are reading medical records or patient adverse event reports, writing narratives, event coding with MedDRA, product coding with WHODD, event seriousness assessment, labelling and causality assessment, entering data into drug safety database like ARGUS, ArisG etc., Starting level job titles are:
Pharmacovigilance specialist
Pharmacovigilance scientist
Drug safety associate
Safety and pharmacovigilance associate
Signal detection drug safety associate
At an entry level for drug safety associate the average salary range can be between 300K - 400K per annum for other healthcare professionals and for physicians the starting salary is 800K per annum. Once you have achieved 2-3 years of experience you can move forward to either quality review, signal management or if you have good narrative writing background you can move into aggregate reporting where you will be writing many different types of reports such as expedited reports, DSUR, PBRER, PADER, RMPs, REMS, Annual safety reports etc. The specialist jobs in pharmacovigilance include; statisticians (requires masters in statistics or biostatistics), epidemiologists (requires PhD in epidemiology or relevant field), IT and computer experts.
Job offering Organizations on the Globe
Each and every pharmaceutical company has their own pharmacovigilance team as it mandatory as per regulatory requirements/WHO/ICH. In large pharmaceutical companies, more than 100000 adverse event reports can be received each year. To handle the cases effectively and to meet the regulatory timelines and compliance, companies started outsourcing the PV unit. Trained Pharmacovigilance associate can apply for employment opportunities in the following organizations:
Pharma and biotech companies
Contract research organizations (CROs)
Knowledge process organizations (KPOs)
Regulatory authorities
There are many CROs and KPOs are handling PV for many big pharma companies in India and there are many pharmacovigilance consultancies available in USA and EU regions. Top CROs/KPOs/consultancies hiring pharmacovigilance jobs are:
Accenture

Cognizant

TCS

IQVIA

Parexel

Kinapse

APCER life sciences

PPD

Bioclinica

Tech Mahindra

Pharmalex

Primivigilance
Pharmacovigilance FAQs
More Courses by Insturctor
Unlimited training Attempts
Pay once and get life-time training access
Get life-time access for daily class recordings along with training
Support available for 24/7
Resume and Interview Preparation
Help in resume and interview preparation along with training
Introduction to PV

Unlimited

Brief history of PV

Unlimited

Importance of adverse event reporting

Unlimited

Reasons for ADR collection

Unlimited
Introduction to Individual case safety report (ICSR)
Unlimited
Basics of Aggregate Reporting
Unlimited
Basics of Signal Management
Unlimited
GVP Modules training

Unlimited

Eudravigilance requirements

Unlimited

FDA Good Pharmacovigilance Practices and Pharmacoepidemiologic Assessment

Unlimited

FDA regulation for IND safety reporting and post market safety reporting

Unlimited
Sources of ADR reports
Unlimited
ADR validity assessment
Unlimited
Adverse event selection, coding and Basics of MedDRA
Unlimited
Assessing ADR reports – Seriousness, labelling, causality and Narrative writing
Unlimited
Workshop on Labelling, causality and narrative
Unlimited
Event selection and coding
Unlimited
MedDRA training and workshop
Unlimited
Case follow-up
Unlimited
Duplicate search process and handling duplicates
Unlimited
Reports of Special situation
Unlimited
PBRER

Unlimited

PADER

Unlimited

DSUR reports

Unlimited
Signal detection process
Unlimited
Signal prioritization
Unlimited
Signal evaluation and validation
Unlimited
Signal Analysis
Unlimited
Signal Assessment
Unlimited